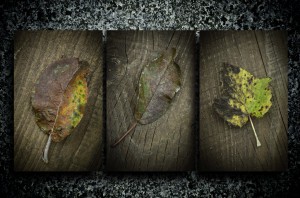 Data is for bagground:
Date: 15/11-2011
Cam: Nikon D7000
Lens:  Nikon 50mm
Focal length: 75mm
F. number: f/5
ISO: 800
Exposure time: 1/30
This November the photo competition at GHS where "Autumn colours".
I was out this Sunday morning to "grab that autumn colour picture" and I did grab som nice pictures.
So after returning home and looking through the catch, but none of them where "that picture".
So what to do?
Then I remember Gavin Hoey created a Autumn Triptych and some of the ideas behind that, I have used to create my contribution.
It was the more classic Autumn pictures that got most of the votes.
But I learned a lot by creating this picture,  so I'll properly create more of this kind.